Date
Dec 08 2021

- Jan 08 2022
Expired!
Splinterlands: Chaos Legion Phase 2
The Chaos Legion presale period is winding down fast…at the time of writing there is only ONE MORE voucher drop left for the presale period, and then presale packs will remain on-sale in the shop for another week after that. Once that is done, no more Chaos Legion presale packs will be available ever again!
Once the presale ends, the countdown to the release of Chaos Legion will begin! The new Chaos Legion cards are expected to descend upon the Splinterlands on Wednesday, December 8th, 2021 – so make sure you're ready! At that time the packs will be able to be opened and the Chaos Legion cards will be able to be used in battles, transferred to other players or platforms, and be bought, sold, or rented on the markets!
Please note that the new Modern and Wild ranked play formats will NOT be released at that time – there will still be only one ranked play format that allows all cards in the game to be used. The new formats are expected to be completed and released in January 2022.
Pack Sale – Phase 2
Also on December 8th, along with the release of Chaos Legion, 2M additional packs will go on sale in the Splinterlands shop. These 2M packs will still require VOUCHER tokens for each pack purchased (not including bonus packs) and will cost $4 each just like in the presale. Packs will be able to be purchased with Credits, DEC, or SPS, but there will no longer be a discount for purchases using SPS. Please note that only purchases made using Credits are eligible for affiliate rewards.
Additionally, the VOUCHER token airdrops will resume on December 8th at the normal time at double the pace of the presale period for 30 days starting. This means that a total of 2M VOUCHER tokens will be awarded to staked SPS token holders over the 30 day period at the rate of 66,666.666 per day.
While the exclusive pre-sale benefits will no longer be available for these next 2M packs, keep in mind that after each set of 1M packs are sold a new card will be airdropped to pack purchasers with each pack purchased having a chance of receiving an airdrop card – as well as a chance of receiving ALL of the airdrop cards going forward over the life of the set.
Ongoing Pack Sales & VOUCHER Tokens
Once the 2M Chaos Legion packs from the phase 2 sale are all sold (however long that takes), then the remaining 12M Chaos Legion packs will be available for general sale. These packs will NOT require VOUCHER tokens to purchase and will still cost $4 each purchasable with Credits, DEC, or SPS, however VOUCHER tokens will still be required in order to receive bonus packs for bulk purchases.
For example, if you are purchasing 100 packs in a single transaction during this phase of the sale, then you will need 10 VOUCHER tokens in order to receive the 10 bonus packs with that purchase. If you have fewer than 10 VOUCHER tokens at the time of the purchase, then you will receive one bonus pack for each VOUCHER token in your account.
After the 2M VOUCHER tokens are distributed over 30 days in phase 2 of the pack sale (even if the 2M packs have not yet been sold), VOUCHER tokens will continue to be distributed at the rate of 20,000 tokens per day to staked SPS holders indefinitely.
In addition to being used for receiving bonus packs with bulk pack purchases, there will be a number of additional uses for the VOUCHER token within the game that will be announced in the future.
Doctor Blight Limited Edition Promo Card Airdrop
Last, but definitely not least, on December 8th, along with the Chaos Legion release, all purchasers of Chaos Legion booster packs during the presale period will be able to check and claim their limited edition Doctor Blight promo card airdrop!
Please remember that each pack purchased will give a 2% (1 in 50) chance of receiving a Doctor Blight card, with at least one card being guaranteed for each 50 packs purchased by a single account. Additionally, each Doctor Blight card airdropped will have a 2% (1 in 50) chance of being a Gold Foil version of the card, with at least one Gold Foil version of the card being guaranteed for each 1000 packs purchased by a single account.
The stats of the Doctor Blight card are below: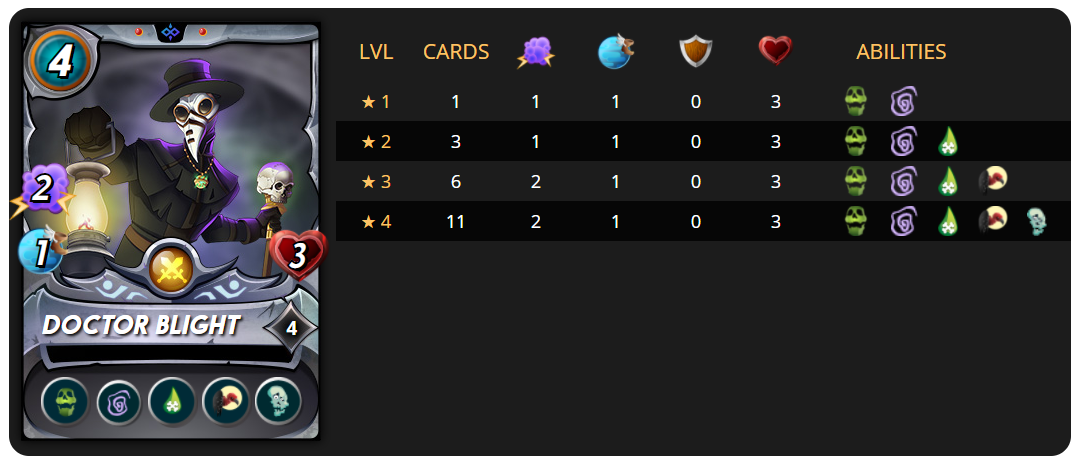 Doctor Blight is a Legendary Neutral Monster card that can fit into many different team compositions at only 4 Mana cost. In addition to his Magic attack he has almost all "blight"-related abilities in the game! He has Affliction which can prevent his targets from being able to be healed, Slow which reduces the speed of all enemy Monsters, Poison which causes his targets to take damage each round, Scavenger which allows him to gain strength whenever a Monster dies, and finally Weaken which reduces the health of all enemy Monsters.
Basically, you're going to want this guy on your side in your battles, so make sure you pick up some Chaos Legion presale packs while they last!